GVSU Central Login Service

GVSUAlert! is a mass, urgent notification system, designed to notify students, faculty and staff of a campus emergency via a variety of methods including:
Text messages (SMS)
Email (Automatically enrolled)
Voice message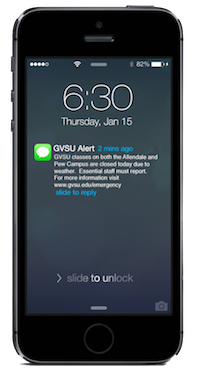 When the GVSU Police Department determines there is an active emergency in which the safety of the campus community may be at risk, an urgent notification through the GVSUAlert! system will be initiated. Examples of when a GVSUAlert! will be sent include but are not limited to:
A tornado in the vicinity
A hazardous material incident on campus
Campus closings or cancelations
An active shooter on campus
All GVSU students, faculty and staff members are automatically registered to receive email notification to their email address. In order to receive GVSUAlert! SMS (text) messages, faculty, staff and students must register their phone numbers. We encourage you to use the text alerts and be prepared when every second counts.